Handmade Tile, Custom Ceramic Tile, Decorative Tile
There are many suppliers of hand made ceramic, porcelain and stoneware tile and now that we have the Internet, we can locate them much more easily. You can give a completely unique look to a kitchen backsplash, ceramic tile border in a bath, fireplace surround or any other place in your house where a durable and eye-catching finish is desired.
Sometimes it takes digging thru a website to locate the handmade tile or custom tile area, but I have done the work for you.
Zazzle-- Various classic styles and some contemporary jazzy tiles for kitchen and bath accents. Art Nouveau tiles and Victorial Transferware tiles are reproduced. Delft style tiles, backsplashes, Portuguese tile, https://www.zazzle.com/decorativetile
GenaCeramics-Country Villa Ceramics-Reproductions of Italian and Delft ceramic tile, hand painted, and custom tile work. Tiles sold individually. Very nice work. http://www.etsy.com/shop/CountryVillaCeramics/about?ref=l2-more-about

Clay Decor's Anne Foulke will work withyou to create the look you want for your project. Her site shows many fine examples of elaborate kitchen installations as well as individual tiles and special touches for baths and outdoor spaces. http://www.clay-decor.com/

Mercury Mosaics--Much more than just a mosaics company, Mercury Mosaics has a motto, "if you can dream it, we can make it" . Sounds like custom tile to me ! They also offer workshop classes several times a month where all materials are furnished. Their blog discusses successful projects done for designers and also has entries on how to do something unique using stock tile when time or money just doesn't allow for custom. https://mercurymosaics.com
SYZYGY Tile - Twenty artisans make handcrafted tile in several styles and many color types. Here you will find some "Arts and Crafts" movement type tiles and also Mid-Century Modern tile as well as many you have never seen before. Shaped tile and mosaics are cut by hand and glaze is applied by brush. https://syzygytile.com/
In Plain Sight Art - We spotted this dynamite art installation by In Plain Sight Art, of Minneapolis, MN. This 130ft artwork graces the new home of the Colorado Supreme Court, the Ralph Carr Judicial Center, and features hand-shaped ceramic relief elements. In Plain Sight Art will produce printed decal sheets weekly, for other artists to kiln-fire onto glass and ceramics, and they also have a retail line of their glass and ceramic works at SightLine Tile.
Handcrafted Cement Tile--Stock and Custom: cement floor tile Villa Lagoon Tile popularized the encaustic cement tile loved for decades in Barcelona, Brazil, Central America, Vietnam, and brought it to the States. One can spend hours with the clever Tile Design Tool. Main site: www.villalagoontile.com
Moore Merkowitz Tile Limited--Founded in 1986 by Susan Moore and Neil Merkowitz, Moore-Merkowitz Tile led the resurgence of hand-made relief tile in America in the mid-1980s. Premier producer of decorative ceramic tiles. Hand-made field and relief tiles. ... Moore-Merkowitz is recognized by architects and interior designers.
Tabarka Studio--hand painted ceramic tiles on a terra cotta base. Their tiles have a very aged look with worn edges and such. Custom tiles are also made for clients.Many designs and patterns. Tabarka tiles are shown in tile showrooms. Or contact them for a catalog. Their tiles are suitable for use on residential traffic floors and walls just like any other antique terracotta. Depending on the traffic, special care may be needed. www.tabarkastudio.com
Mantra Tile--Handmade Custom Tile--Very cool wax-resist type decorative tile. Their clay bodies have a slight grainy texture from the sand content. Their process of clay mixing and forming all make for a consistent body, with strength as well as a heat and chemical resistance .Mantra's fired clay bodies are virtually non-porous, even when unglazed. This allows for the raw clay to be shown. You can choose to have the entire surface of the deco tiles glazed, or leave as much of the raw Moroccan clay tile exposed. The unglazed clay will add dimension and texture to any of the designs as well as an earthy and rustic appearance.Even their website is beautiful. Have a look. http://www.mantratile.com
Craig Bragdy Tile--Some really special handmade tile installations are on Craig Bragdy's website. One of his magazine ads says his tile is "the most spectacular swimming pool tile ceramics...www.cbdpools.co.uk and www.craigbragdydesign.co.uk
Payne Creations Tile--After getting a Masters in Fine art, Carolyn taught for several years.One of a kind commissioned art, is Carolyn's passion. Always busy working on ceramic murals for golfers, wine enthusiasts, outdoor chefs (Patio art), and art lovers in general. Carolyn dedicates her efforts to those few individuals who are wanting art which is unique, personalized, and more than just a cut above the usual, a whole level above the usual. Contact Carolyn and find out what is possible for you. www.paynecreations.com
Margaret Licha Designs--Lots of rustic style ceramic tiles and murals. Animals seem to be a specialty. All tiles will be custom stained & glazed just for you. The average time for decorative tiles is 2 to 3 weeks after the order has been placed. Decorative tiles with field tiles,100 sq. ft. or more, may take as long as 5 to 8 weeks. www.margaretlichatile.com
Karen Howell Porcelain--Hand made tile from Karen Howell-Tiles and mosaics are the focus of Karen's work. Various designs and colors are available. The work is inspired by flora and fauna - animals and the outdoors. Each piece is handcrafted and painted with glazes which are then fired to achieve a gloss or matt surface. Since the process is time consuming and labor intensive, it may take several weeks to receive an order. Each piece is made to order with attention to quality and detail. Located in PA. -www.karenhowell.com
Ken Mason Tile / BCIA--Get ready to see some fabulous tile. KMT/BCIA is an environmentally friendly company. They say they clean and or recycle their water, spray booth air, clay and paper products. The website has a clearance/ overrun dept where you can find some bargain tile. The tile with an old world or old English look is amazing. Spend some time looking at all the choices that Ken Mason offers. They are located in Long Beach, California so if you live nearby, go see the clearance dept in person. https://kenmasontile.com/
Duquella Tile--For authentic tubelined tile. The folks at Duquella Tile specialize in Arts & Crafts, Bungalow, Craftsman, Art Nouveau and Art Deco tile. Duquella Tile also offers period-inspired original designs & historical reproductions. Located in Portland, Oregon, they are a family clay studio. Duquella Tile is inspired by old traditions, classic design and nature. Duquella Tile creates murals, decorative borders, trims, accent tile, half tile, field tile & decorative house numbers. Use combinations of the tile sets for bathroom walls and tub and shower surrounds. Perfect decorative tile for your kitchen backsplash and a focal point above your cooktop. Another option is for your fireplace surround and hearth. Custom design services are available including custom tile sizes. All tiles are made per order, custom glazes are available for any of the designs at no additional charge. www.tiledecorative.com
Color Bakery--for a tile effect that is pure drama, have a look at these incredible handmade tiles. The emphasis is on color and style rather than molded relief. There is a lot to see on the Color Bakery site, so be sure to investigate all the different areas as the look you want may be shown in an unexpected section of the web site. Custom ceramic tiles are made at your request. Color Bakery artist and owner Mindy says "Color Bakery is much more than just our business, it's a big portion of our life. We enjoy what we do immensely--every product we make is truly a labor of love. Making beautiful things with our hands and working with luscious color is just the coolest thing, and we feel lucky to be able to share our love of beautiful things with you. I am the artist and my husband Glen is the color baker. ;o) " www.ColorBakery.com
Villa Lagoon Tile is importing the cool cement tile that is used all over the world on floors, walls, etc...The colors in Villa Lagoon Tile work well in modern interiors and coastal decor. These tile are hand made using a very old process that has not changed from the beginning. Encaustic cement tile is typically ordered in custom colors. Lundy & Dave will be happy to assist. www.VillaLagoonTile.com
Motawi Tileworks--Motawi polychrome tiles are produced in the ancient tile-making process known as ceunca style. Montana de Oro Tile is where nature meets art in this Motawi tile inspired by a print from Yoshiko Yamamoto of The Arts & Crafts Press. "Cuenca" means "basin" and is also a town and a province of Spain. The term refers to the small raised lines of clay that make up the "basins" into which they put the glazes. Each glaze is poured by hand into its area with a squeeze bulb. This is very similar to the cloisonne jewelry-making process. These are beautiful and beautifully designed hand made tiles. They are priced accordingly. www.motawi.com
Authentic Portuguese tile panels--hand-painted antique Azulejo and Pombalinos tile art shipped from Dallas. This pombalinos tile mural is hand painted and fired over 300 years ago. Tiles like this are ideal for a kitchen backsplash, in an entry hall or on a patio wall. Of course the tile panel can be mounted on a substrate and hung as art on the wall. These antique hand made tiles are not inexpensive, but you would own a real piece of antiquity. It would be difficult to find modern made tiles that have the same character and look as the real antique ones.
Trikeenan Tileworks--Note: Sold out, announced this week, 9/2011...we shall see what happens. This New England company combined age-old materials and techniques with innovative design and new processes, resulting in some of the most original and beautiful tile I've even seen. Their tile was crafted with loving care, each job is treated individually. Each tile order was handcrafted to order individually by artisans, in the USA. Trikeenan Tileworks used stoneware clay for strength and durability. Trikeenan's glaze palette offered a color spectrum from subtle to brilliant, and finishes that range from matte to glossy. They're known for a uniquely "deep" glazes, which means that within one glaze there can be a tremendous range of color. Be sure to look at the Siberian Iris Tiles under Arts & Crafts/ Trees and Nature. www.trikeenan.com
Sintra Antique Tiles--Looking at Sintra's Tiles really does make my mouth water, I can think of so many ways I could use these fabulous colorful tiles. You could cover your entrance hall walls and feel as if you were on vacation in Spain or Portugal every day. From traditional blue and white decorative tiles to elaborately hand made and hand painted tiles, the variety and availability of this versatile decorating element is greater than ever. Their tiles are handmade in Portugal. You will find a tremendous variety of styles ranging from well priced, good quality hand painted tiles, the azul collection, to hand made and hand painted period reproduction tiles. Have Sintra Antique Tiles make you a set with your house numbers or the name of your home. They create the traditional blue and white tiles seen so often imbedded in building walls at street corners in Europe. www.sintraantiquetiles.com .
Earth Images--Handmade tile art by Nancy Cannon featuring decorative kitchen tile and handmade ceramic tiles. These raku tiles are made with bas-relief images of woodland creatures, herbs, insects, fruit, and wild animals. Earth Images raku tiles are sold individually and in mirrors, tables, or wall plaques. To get the interesting colors in their tile, the piece is removed from the kiln while still red hot and put in a bed of sawdust which then bursts into flame. After it cools a bit, it is immersed in cool water. Nancy's handmade tiles are ideal for kitchen backsplashes and they are also used as accents in fireplaces. www.allearthtiles.com
Gooseneck Designs - Handmade Tiles and custom sculpted tile murals using unique hand made tiles. Custom sculpted murals are their specialty. The possibilities are only limited by your imagination.The Gooseneck tile designs feature a wide variety of themes, from pets to wildlife, natural landscape to architectural. Gooseneck tiles have been used in public spaces and private homes, both indoors and outdoors. They have also been used in custom fountains, public art, commercial signage, fireplace surrounds, countertops, backsplashes, swimming pool tiles, sculpted sinks and soap dishes, highly sculptural pieces and complex, low relief glazed murals. Oh my goodness, this is a must see website. www.gooseneckdesigns.com
Blackhawk Studios -- offers several lines of handmade ceramic tile murals Specialty & one of a kind tiles are available from Blackhawk Studios. Since they start with raw clay, and handbuild, handcut, handpaint and glaze, Blackhawk Studios can create any look and size tile. For kitchen backsplashes, handbuilt, bas-relief, hand painted tiles will be created to fit your space and theme. www.blackhawk-studios.org
Tile Heritage Foundation-- WOW--this is the best web resource I know of for info on and about handmade tile. The Tile Heritage Foundation, founded in 1987 as a nonprofit charitable organization, is dedicated to promoting an awareness and appreciation of ceramic surfaces in the United States. The Foundation serves the need for a historical perspective regarding all ceramic surfacing materials, both past and present. In addition to aiding in the education of the general public about the rich and varied history of tile, the organization has become a major voice in the preservation of existing installations of rare and unusual ceramic surfaces while enhancing the visibility of contemporary tile work as well. Safekeeping ceramic surfaces today is an integral part of preserving ourselves, a means of being remembered and understood by future generations. www.tileheritage.org
Clay Squared offers handmade tiles by several artists. You can order online. This fall leaf design is just one of many. This handmade tile was originally created for the artist's parent's home. Clay Squared leaf tiles have been a favorite of many people. The Ball's wanted to incorporate the leaves as though they were floating down though the kitchen. Using many different size and random placement help achieve their vision. A link to the Clay Square Handmade Tile Page
Pratt and Larson Ceramics--in 1980 ceramist and painter Michael Pratt and Reta Larson who is a textile artist began Pratt & Larson Ceramics. They were among the first of a new wave of small companies making hand made tile for national distribution. The company has grown from two artists working in a basement studio to a staff of 70 producing the 1000 items in the product line. Pratt & Larson have created hand made tile with motifs of sea life, animal and architectural designs in addition to historical designs from the 1930's. Any of their designs can be ordered in various levels of glossiness. Decorative relief tile can be ordered in single colors or with individual hand painted detail. They have an inspiring glossy catalog with good design ideas and examples of the hand made tile liners (borders) and many architectural trim tiles. www.prattandlarson.com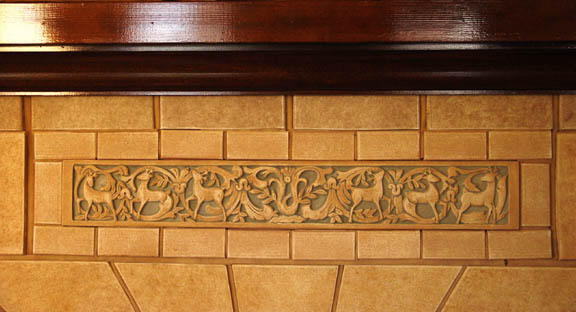 Tile Restoration Center in Washington state/ Oregon area will be happy to talk to you about re-creating your old tile. They work with you and your site's dimensions to formulate a design best suited to your needs and preferences. The plan will incorporate your choice of field and relief tile of various sizes, mouldings, borders, corbels, hoods, shelves, etc. In many instances, their stock patterns permit extensive possibilities without custom costs. The skilled in-house design team looks forward to helping you design your installation. www.tilerestorationcenter.com
Antique Hand Made Tile
Scott Wells-Wells Antiques. A place to shop for vintage california tiles. Wells Antiques has the largest stock of antique tiles in the country. Located at: 2162 W Sunset Blvd. Los Angeles, CA 90026 www.wellstile.com
Karen Guido - Karen Michelle Antique Tiles-- Specializing in antique tiles and related items- A well stocked inventory of over 1000 tiles for sale. www.antiquetiles.com
California Tiles--Caltiles--a website by an enthusiast with alots of information as well as tile and tiled peices for sale. www.caltiles.com
LA Pottery Show--every year, a big show for antique tile collectors and vendors. Next show: January 23-24, 2010 in the 22,000 square foot newly expanded Conference Building at The Pasadena Convention Center. Verbal appraisals by noted pottery authorities and auctioneers David Rago & Suzanne Perrault from RagoArts plus book signings are just a few of the show's highlights. https://thelapotteryshow.com/
Handmade Tile Associations
The Handmade Tile Association--The Handmade Tile Association is a group of independent and diverse tile makers who work in individual studios throughout Minnesota and surrounding areas. They envision a world richly tiled with designs of exquisite beauty, adaptable functionality, matchless durability, and infinite variety. The 2007 HTA directory represents 32 tile artists of which you can commission kitchen backsplashes, fireplaces, bathrooms, public art, garden sculptures, and art for almost any application. The website seems gone and the FB page has not been updated in a long time but has some great posts: https://www.facebook.com/Handmade-Tile-Association-145858688759000/
The European Ceramic Tiles Circle--Tile and Mosaic News - A periodic electronic newsletter with a selection of new and second-hand books about tiles (including mosaics and architectural ceramics). To be added to the mailing-list, send an e-mail to cblanchett@lineone.net