Hardwood Flooring, Custom Wood Floors, Parquet Flooring
Residential real estate agents say homes with wood floors hold their value better, sell faster, and fetch higher prices, according to a recent nationwide survey commissioned by the National Wood Flooring Association (NWFA). By a three-to-one margin, real estate agents said that a house with wood floors would sell faster than a carpeted house. Some 58 percent said a house with wood floors would bring a higher price. Health benefits are also a factor for those considering hardwood flooring. Whereas carpets over the years gather mildew, mites, animal dander, dust and pollen beneath the surface that can cause respiratory problems and aggravate allergies, hardwood flooring has a very durable surface that is easy to clean and maintain. Properly maintained hardwood floors are extremely resistant to mildew and the other ails of carpets. Hardwood and laminated wood floors are the smart and healthy choice.
Laminate Flooring vs. Hardwood Flooring

A laminated floor, also known as a floating floor, is primarily made up of a thin wood-look sheet glued on a high density plywood base. This means the floor will have the appearance of wood, but cannot be sanded or refinished, which ultimately limits its lifetime. A popular laminate brand is Pergo. Basically, a photograph of wood glued to a backing with a clear plastic finish on top.

Hardwood flooring is always made up of a real hardwood surface, whether it's solid or engineered hardwood. The result is a natural, real hardwood floor that can be resanded, stained, and varnished to match your tastes and changes in your decor. If it's well cared for, it will last nearly forever. A solid hardwood floor can be sanded and refinished several times over many, many years. Engineered hardwood floors have a thin veneer of hardwood glued to a less expensive substrate.
Whole Log Lumber- - Antique wooden flooring. If you are seeking old wood floors of heartpine, oak, maple or redwood, check this site. They work with reclaimed lumber and flooring of cypress, redwood, chestnut and fir. Whole Log Lumber provides quality wooden flooring, paneling, stairs and stair parts, mantels, doors, cabinets and ceilings since 1984. This easy to use website shows not only the different kinds of wood flooring but also antique timbers and beams. There are photos of the products in a lot of settings, both modern and traditional. The wood from Whole Log Lumber can be used for many things. Antique & Reclaimed wood has a much lower moisture content so it is more solid and stable for a mantle which may be subjected to heat from the fireplace which can cause wood which is less dry, to shrink. Mantels are customizable to your specifications. www.wholeloglumber.com
Borano Inc
137 Cross Center Rd. Ste 130
Denver, NC 28037
1-877-839-8029
Their wide plank flooring is an unfinished solid product, which will be shipped directly to you in a secure crating system. These crates are specifically designed to protect your flooring and ensure that it will arrive in perfect condition, so the flooring can be finished on site by your own independent contractor. Royal mahogany wide plank flooring is available in 9"-12" widths, 3/4" thick, with tongue & groove profile. Watch the video on their website to see why they say the planks don't cup or crown. www.Borano.com
Kennebec Wood offers one-of-a-kind end grain wood flooring for residential and commercial buyers. They use heartwoods and under-utilized species which are "rescued" and recycled. They carefully select these woods to celebrate that character - coloration contrasts, grain swirls, and knots - which is showcased beautifully in end grain exposure. Each floor is totally unique. Examples of end grain wood floors can be found around the world - in European palaces and cathedrals, Caribbean plazas, and in American hotel lobbies, schools, and museums. Since the 1800's, factories throughout the world have used end grain construction for the superior hardness and wear resistance gained from end grain exposure. Kennebec Wood floors offer the same durability as those centuries-old floors and the floors can be refinished throughout their thickness, unlike conventional flooring that has typically less than 25% of its depth as useable wear surface. They pre-seal the floors on all surfaces to create a moisture barrier that stabilizes the wood floor. This treatment penetrates many times deeper than on conventional floors, and offers a base finish that is compatible with water based, solvent based, and traditional wax top coats. www.kennebecwood.com
T. Morton & Co. Custom Wood Flooring--- This company offers premium residential hardwood floors. They carry domestic and exotic species, also antique and reclaimed floorboards. Wide widths and extra-long lengths are available. T. Morton has furnished flooring for decorator showhouses and is an upscale supplier ready to work with architects, designers or homeowners. If you have a specific wood or finish or both in mind, you can request a sample and they'll send you a piece of the real flooring. www.tmorton.com

Czar Floors---- Oh My Gosh !!!--manufacturers and distributes selected hi-end products for hardwood floor industry. Their specialty is custom floor inlays, parquet, floor medallions and borders. Custom hardwood parquet floors will give you the best wood craftsmanship. Great European tradition of parquetry is having a rebirth due to innovations in laser wood cutting and computer design. This process made custom floors more affordable to the public. Czar Floors products have the biggest wear layer in the industry - 15mm or 5/8". Czar Floors Parquet, borders and medallions are 5/8" thick solid hardwood. This is enough material to refinish floor for as long as you own it. The fabulous designs are NOT painted or stained on--Every pattern is made up from different wood species, carefully matched by designer to achieve the desired effect. You can even specify the woods you would like to use. www.czarfloors.com
Aged Woods--offers rustic, wide plank antique flooring recycled from old barn wood and old looking wood floors made from newly cut trees. Aged Woods® brand flooring is precision-milled from old, destined-for-the-dump barn wood. They kiln-dry the wood before milling to assure a stable, bug-free floor. The look of these antique woods is natural resulting from a century or two of weathering and the sign of time. Aged Woods® floors are warmly inviting and add a rugged feel of Early America to residences, retail stores, restaurants, casinos, country clubs, etc.
Yesteryear® is their brand of flooring that provides the rugged feel of Early America but costs less because it is made from new wood. It is available in wide widths and long lengths that are not possible with reclaimed wood. These floors are also perfect for "mountain" style homes. www.agedwoods.com
Carlisle Wide Plank Floors has been handcrafting the finest old growth pine, antique and hardwood floors in custom designs for almost 40 years. The leading name in wide plank flooring - Since 1966 Carlisle Wide Plank Floors one family has been carefully selecting, custom grading, air drying and handcrafting wide plank flooring for fine homes. It's a traditional manufacturing process that has continued in the small New Hampshire village of Stoddard and the old world flooring is shipped worldwide! All orders are wrapped in a waterproof material that still allows the wood to breathe, crated in hemlock, then steel-strapped for extra measure and placed on sturdy wood pallets. All Carlisle Wide Plank Floors woods are extensively air-dried and kiln-dried. Average time from order to delivery is 3 weeks. Use the website to explore your many choices in stain and finish. The floors in early Colonial homes were sawn using basic hand-held tools, which resulted in variations in the texture of each plank. Carlisle can recreate this look and feel using many of the same tools. The term "Old Growth" refers to a tree that is allowed to reach full maturity in a natural environment before it is cut down. The Carlisle website can answer many of your questions about wide plank, old growth, and distressed antique looking hardwood and pine flooring. www.wideplankflooring.com
Homerwood Hardwood Floors is a manufacturer of oak, cherry, hickory and other hardwood flooring that is distinguished by the unique beauty of the Character Grade and Amish Hand-Scraped products. HomerWood is a manufacturer of high quality hardwood plank flooring, offering unfinished, prefinished and Amish Hand-Scraped Character Grade (TM) products. Their hardwood flooring is found in a variety of homes and buildings - from vacation homes to luxurious custom designed homes to office complexes and retail stores. HomerWood's Character Grade(TM) hardwood flooring is a specialty product not a commodity item - it's different from the norm - it's not strip. Looking around a showroom, most likely you will see clear flooring in different sizes and colors. HomerWood's wide plank products have a distinct look - one that can't be imitated. Species Available for all floor styles: Cherry, Hickory, Black Walnut, Red Oak, White Oak, Hard Maple, and Coastal Maple. The Amish Hand Scraped Flooring is a unique, special product. This collection of Character GradeTM flooring offers a truly authentic distressed look because it is hand-scraped by Pennsylvania Dutch craftsmen in the tradition of Renaissance-era woodworking. New planks are hand-sculpted, one at a time, to create unique custom flooring of timeless originality and distinction. Unlike most of today's machine-distressed flooring, no two planks are alike and each bears the signature of the proud craftsman who created it. The Amish Hand-Scraped Collection is available in prefinished and unfinished wood that includes Cherry Cinnamon, Hickory Natural, Hickory Saddle, Oak Saddle, Red Oak Natural, Black Walnut Natural and White Oak Natural. Lots of technical info is on their site about weight, hardness, shipping, etc. HomerWood recommends that you contact Millwork Concepts or Artistic Finishes for more information about molding and trim accessories to coordinate with our flooring products. www.homerwood.com
The Hardwood Flooring Store--Their goal is to find the best possible hardwood flooring deals for their customers. They have served over 100,000 customers, mostly "do-it-yourselfers," always looking for the best possible value on hardwood flooring. The Hardwood Flooring Store offers hundreds of choices of flooring and helpful staff. They offer hardwood flooring and laminated flooring in two dozen species and laminates in a rainbow of colors. Hardwood flooring and laminates come in variations of thickness and widths. They offer Canadian and American customers access to the best possible selection and prices of hardwood flooring at their two locations in Markham (Toronto) and Burlington, Ontario. Hardwood Flooring, Laminates , Hardwood Flooring Specials from the world's largest independent outlet of hardwood flooring and laminates to the public at the best possible price. The Hardwood Flooring Store serves customers in both the USA and Canada. www.hardwoodflooringstore.com
Mountain Lumber Wood Flooring--Since the early seventies, Willie Drake, the founder and president of Mountain Lumber, has been a leader in finding buildings containing outstanding heart pine and saving the historic wood from demolition. Mr. Drake and his scouts hand-select only the finest wood and ship it to Mountain Lumber's mill in Virginia, where it is resawn, kiln-dried, milled, and graded based on standards originally established by the Southern Pine Inspection Bureau in 1923. Mountain Lumber is the leader in the field of timber reclamation, shipping its product not only across America but to Europe and Asia as well, and their Historic Heart Pine has become the standard by which others are judged. They offer several different and fine wood flooring products. Read and see photos of the journal of Mr.Drake's finding and importing old Chinese elm trunks from China. The finished elm is wonderful looking. It has deep swirling brown, almost chocolate, grain running through golden colored heartwood. The size of the logs Drake found in China means the wood will yield especially wide planks. www.mountainlumber.com
Olde Good Wood is the antique wood division of Olde Good Things - The Place of the Architecturologists. Olde Good Things helps to preserve the traditions of the past. They are retrievers of hard-to-get building parts from urban demolition sites. Olde Good Wood recycles and restores old woods. Just about all antique wood available today is recycled virgin-forest slow-growth timber -- giving it a tight grain structure that is far stronger than today's fast-growth softwoods. In addition, the grain structure and patina of antique boards is far more visually pleasing in many applications than newly cut and milled wood. Their website is handsome and has a running list of what is currently available. go to www.oldgoodthings.com
Authentic Pine Floors, in business about 20 years offering Heart Pine flooring in both variable width and wide plank. Authentic Pine Floors is proud of its affiliation with the Southern Living Magazine Custom Builder program. They carry pre-finished solid , handscraped & distressed heart pine and site finished pine flooring and have a photo gallery of many installations on their website. Heart pine is rated only 5% softer than red oak. Authentic Pine Floors, Inc. obtains its coastal heart pine from managed forests in the southeast - the only place where Longleaf pine is grown. Southern Yellow and Heart Pine have been used since the early 1700's in homes all along the Eastern coast because of its strength, durability, stability and beauty, and not to forget that it grows fast ! www.authenticpinefloors.com
Boa-Franc Inc. Mirage Floors-- is the North American leader in the manufacturing of superior quality prefinished hardwood floors... as the highly acclaimed Mirage Collections. At Boa-Franc, sustainable development is a daily concern that translates into careful selection of responsible wood suppliers, ongoing financial support for reforestation, a wood cull recycling program, the use of non-toxic manufacturing products, and ongoing R&D innovation for the future of wood products. In both the U.S. and Canada, Mirage is the cream of the crop in prefinished hardwood floors. The Mirage collections, offer a wider selection of wood species, stains, and finishes than any other prefinished hardwood on the market. Based on a random sampling of independent retailers, a study conducted by American magazine Floor Focus placed Mirage among the top 5 hardwood floor manufacturers. Among the big names of the industry, Mirage ranked first in quality, third in service, and fourth in design. This poll also showed that 60% of respondents had seen sales of their hardwood floors go up in the past year. Opens in new window--as they will not allow back button to work. www.miragefloors.com
Anderson Hardwood Floors has been family owned for four generations.The name Anderson and fine hardwoods have been linked for more than 65 years. Their goal is to make obsolete solid wood floors by providing a superior product - the best-performing engineered wood floor on the market. The emphasis is on engineering flooring with what they call Cross-Locked Engineered™ plies. This method of alternating the grain structure of five separate wood plies has been the backbone of Anderson's success. They were the first company to introduce Pecan, Maple, Beech, and Southern Elm, in 18 beautiful colorations. These products are available exclusively through independent dealers. Anderson exports to countries around the globe. Anderson's RhinoTuff™ and Mountain Classics™ real wood flooring collections are up to 100% harder than oak lumber. They won't buckle, and they are stain-resistant, wear-resistant, and carry a 20-year finish warranty and a lifetime structure warranty. The Anderson Hardwood Floor website has extensive information on installation and lots of photos of their wood floors in different settings. They also have an online flooring estimator. Anderson's product line includes: Freedom Floors, Della Mano, Biltmore Estate, Mountain Flooring, Exotic Collection, and Rhino Tuff. They will ship up to four samples of their flooring for free from the website. www.andersonfloors.com
Bruce Hardwood Floors is the number one best-selling and most recognized hardwood flooring brand name in the world. Bruce is now owned by Armstrong Flooring. Armstrong also owns Hartco Wood Flooring, and Robbins Fine Wood Flooring which offers premium hardwood floors. The Robbins line includes Legno Lavorato™ , a wide-plank floor, the most dramatic example of Armstrong's new product development. Legno Lavorato is designed to give the look of a true hand-oiled antique oak plank floor. The Armstrong website has many photos of wood floors and a nice dictionary but also includes so much fluffy hype that it is tiresome to explore. Much of the information on the various products pages is repetitive and few, if any, of the floors shown show much artistic inspiration. They may be the largest manufacturer, but they are obviously the choice of the masses--not the connoisseur. www.armstrong.com
BR-111 Exotic Hardwood Flooring-- For more than a decade, BR-111™ has been a leader in the introduction of unfinished and prefinished exotic hardwood flooring to distributors throughout the United States. Today the company continues to provide the finest exotic flooring, while striving to introduce exciting new hardwood species and innovative products, ranging from a variety of solids to cost-effective engineered flooring. BR-111™ produces the finest unfinished and prefinished exotic hardwood flooring from its fully computerized, state-of-the-art manufacturing facility situated outside of Sao Paulo, Brazil. All flooring is kiln dried and precision milled to exacting standards using the industry's most up-to-date manufacturing technology. The largest flooring mill in South America, BR-111™ produces more than 1.5 million square feet of flooring per month for distribution to domestic and international markets. Precision milled for a perfect tongue and groove fit, prefinished hardwood flooring from BR-111 is quick and easy to install without sanding, dust, odors, or extensive drying time. You can read detailed installation instructions online for all their products and locate a dealer near you. www.br111.com
Antique Wood Flooring
Origines--A large choice of ancient fireplaces, ancient materials, architectural antiques, ancient terracotta tiling and ancient wood flooring and stone flooring. Origines is a world leader in the sale of ancient materials such as period fireplaces, floor-tiles, old fashioned parquet flooring and other architectural antiques. Showroom located in the heart of Paris. www.origines.fr
Elmwood Reclaimed Timber--Elmwood sells al sorts of reclaimed lumber products. They sorta specialize in flooring. They are centrally located in Missouri and ship everywhere. In addition for reclaimed flooring, they offer old timbers and beams. www.elmwoodreclaimedtimber.com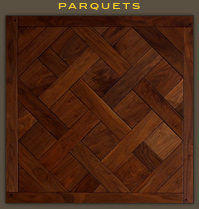 MIR Hardwood--High end custom hardwood flooring--French and N. Amercian reclaimed hardwood floors. Up to 12 inch wide planks, Wine barrels reclaimed, Teak reclaimed...3/4" Solid and 3/4" Engineered,  80+ Patterns available. Exact detailed recreations of the old European parquet designs-located in Marina del Rey, CA 90292-www.mirhardwood.com
Creative Hardwood Flooring Ideas
Don't think that hardwood floors have to be boring. When this quarter-sawn oak floor was refinished, the homeowner saw the freshly sanded floor as a blank canvas and an opportunity to add some subtle color and design. The whole effect was done in one evening after the professional floor sanders had added one coat of a light walnut color stain and gone home and before they returned the next day to put the first coat of waterbased urethane on.
First the design was laid out as stripes to be filled with bands of different colors of transparent stain. Masking tape was put down along the seams in the hardwood flooring boards so it was easy to lay it in straight lines.

Alternate spaces received store bought green stain and reddish-brown stain applied with a cheap foam 'brush'. The homeowner used an artists brush to make freehand swirls along the center of the bands that had just the walnut stain showing. No pencil lines or guide lines were used. She just used the seams in the boards as guide lines to keep the swirl design elements in proportion. This was a free-form design.
These photos show the finished hardwood floor with the water-based urethane finish and an additional coat of wax on top so that the dining chairs will slide easily in and out from under the table. The green swirl pattern on the quartersawn oak wood floor is subtle but reflects the flowing lines of the Venetian handmade glass chandelier in the room that is soft champagne color edged in olive green. The walls in this room are a very, very pale pink. This particular very light shade of pink looks cool in natural sunlight and warm in artificial lighting. The home owner had the paint store mix the lightest pink on the color chart then she cut it 4 to 1 with white paint. The windows have no curtains, only leafy oak trees outside.
Hopefully, this will give you some ideas of the design possibilities using hardwood flooring and small cans of store bought stain and a couple rolls of masking tape.
************************************
Professional installation for genuine hardwood floors is generally recommended. However, depending on the type of wood floor, the size of the job, and how handy a homeowner you are, you may be able to do the job yourself. If you are pretty good with your hands and tools, and considering installing a factory-finished floor in a small to medium-sized room, doing it yourself would probably not be too tough and will save you the cost of hiring a professional. But for bigger and more involved projects, it would be worthwhile to leave it to a professional.

Modern technology of protective finishes has come a long way, making wood flooring more practical than ever before. Poly-Urethane finishes are the most popular today because their ultraviolet light cured finish allows for easier maintenance and toughness. Because of the nature of the material, wood is always susceptible to scratches, dents and dings from spike high heels, sharp objects, etc. But really, these 'signs of life' just add to the charm of a real wood floor.

Today there is not much need for sanding and refinishing a wood floor. After a floor receives a lot of wear, you can just reapply the urethane finish every ten to fifteen years - which will bring back the shine and make the floor surface uniformly glossy or satin-y and sealed again. Wood floors should only be sanded or refinished if they suffer severe damage, have stains that have soaked in or if you want a new color.

Most people use the waterbased but slightly more expensive urethane finish over the oil based ones since the waterbased ones tens to be a bit harder. Floor wax is used less often that it was many years ago. We find that we like the look of a waxed floor and that if we put a light coat of paste wax on top of our water-based urethane finished hardwood floors, our dining room chairs slide in and out from under the table ever so smoothly.
This is not universal, but here is one dealers break-down of flooring grades:
TYPICAL SPECIES AND GRADES OF NATURAL WOODS

Prime -1st Quality, Select and Better, Premium, Platinum
No glaring defects in finish to exceed 5%. This is a top of the line first quality product.

Extra Grade
Combination of 65% Prime and 35% of Standard and Better. Fairly pronounced color variations with a large proportion of light boards.

Standard - Builder, Mid Grade, Standard and Better, Custom, CB
These products contain more natural wood characteristics (mineral marks, knots, pinholes, etc...) than prime grade. This Grade contains a shorter length average.

Tavern - Cottage, Cabin, Millrun, Rustic, Renaissance
The tavern grade products are manufactured from a grade similar to #2 common. They contain a considerable amount of natural wood characteristics such as mineral marks, knots, pinholes, checks etc... for a rustic appearance. They can also contain some machining defects and shorter lengths but will always lay an economical and serviceable floor.